Mark Rabinowitz named Interim Director of Historic Preservation
New leadership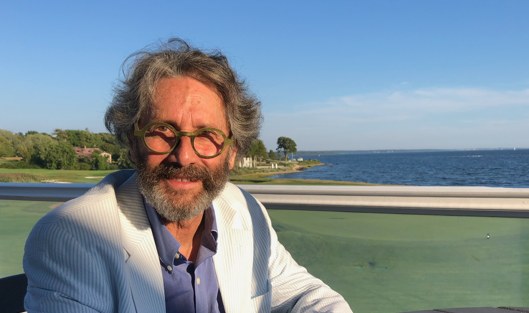 National preservation leader joins Historic Preservation at TuSA
Story by Naomi King Englar
National preservation leader Mark Rabinowitz, FAIC, FAAR, FAPT, has been named Interim Director of Historic Preservation and Christovich Visiting Professor of Historic Preservation at TuSA.
Mark brings decades of experience in the field, particularly in the U.S., Canada, and the Caribbean. He currently serves as President and Principal Conservator with EverGreene Architectural Arts.
"I am honored and excited to be joining the Tulane Historic Preservation Program and working with the students and faculty in New Orleans," Mark says. "There is no better place to learn about the challenges of preserving the historic built environment. The value of that intimate connection with the past that Tulane offers is demonstrated in the quality of the graduates of the program."
Mark has worked with the school since 2012 as an invited lecturer and an employer of Tulane graduates. Starting in August 2023, Historic Preservation students will receive excellent mentorship from Mark, who will also serve as a studio instructor and contribute his incredible hands-on experience in preservation.
Mark will work alongside notable preservationist and architect Jorge Rigau, FAIA, to establish new research fieldwork opportunities in Puerto Rico for all students in the program, starting in the fall 2023 semester and including travel in the spring.
"The students will enjoy a wonderful chance to study and learn in Puerto Rico with Jorge Rigau," Mark says. "This is a rare opportunity to learn from a master about buildings dating from the Spanish Colonial period through the Modern era and their survival in the beautiful but difficult Caribbean environment."
In addition to Mark's instruction, Historic Preservation courses in fall 2023 will be led by a talented group of current and new faculty including Heather Veneziano (who will serve as Curriculum Coordinator), Fallon Aidoo, ZoAnn Campana, Allison Cruz, James Rolf, Sonny Shields, Cynthia Steward, and Brook Tesler.
Mark joins TuSA following the departure of former director Brent Fortenberry and former faculty Jane Ashburn.
A national search for a permanent director will begin this fall with selection as early as Spring 2024.
"We are excited for this new chapter in the Historic Preservation Program," says Iñaki Alday, Dean and Richard Koch Chair in Architecture. "The entire academic, administrative, and teaching team at TuSA remains committed to providing our students with a world class, rigorous educational experience."