First-ever Design Showcase + Fashion Show
Designs come to life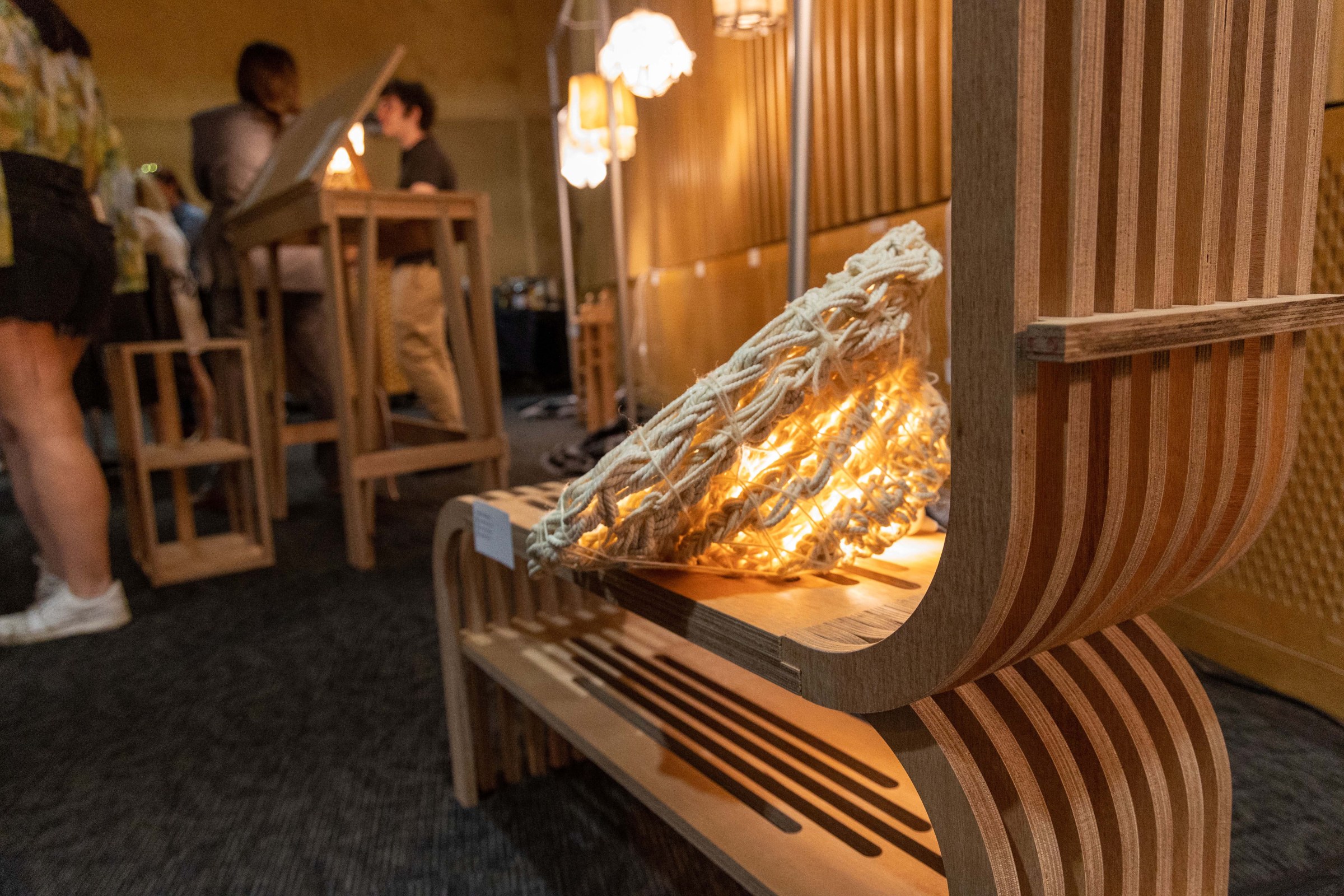 Large crowd celebrates more than 100 students' work from eight design courses at TuSA
May 10, 2023 | by Kyra Geschke and Naomi King Englar
With dozens of printed graphic designs pinned up on display boards and furniture prototypes, topped with illuminated light fixtures lining a red-carpeted catwalk, Tulane School of Architecture (TuSA) hosted the first-ever Design Showcase + Fashion Show on May 4 on Tulane's uptown campus.
The pop-up exhibit highlighted the work of more than 100 design students from eight different courses in the Design Program at the school. The event drew a packed crowd of students, faculty, staff, friends, and family. Wearable designs from three courses were featured during the evening's fashion show portion: backpacks made from recycled cardboard and duct tape, original textile designs digitally printed on scarves, and sustainable fashions made from repurposed garments. The event was organized by Design Program faculty Hannah Berryhill, Meghan Saas, and Bo Choi, in collaboration with five student committee members - Maddie Ruben, Rhea Majumdar, Barbara Malamut, Liz Small, and Annie Enbom. Sponsors were Precision Machines, Aidan Gill for Men, and AOS Interior Environments.
Click here for more photos of the event on the Tulane University photo page.
"Our students have been working so hard, and they get focused in their areas," said Meghan Saas, Associate Director of the Design Program and a Professor of Practice in Design at TuSA. "This is a chance for them to look around and see what else is going on in the studios, and for the younger students to see what is coming next for them. And then beyond that, for people outside of our program to see what design even is because I think there is a lot of mystery around the term, and it can be broad. There is a lot that we have our students exploring, so it is a chance for people to see what is actually happening in the program."
The Bachelor of Arts in Design officially launched as a new major at the School of Architecture in fall 2020 and has since grown quickly in size and available offerings.
Zoe Hill, a junior majoring in design and business, had her "Design for the Cause" project on exhibit. The project involved inventing a theoretical cause or nonprofit, then creating branding for an event, campaign or product associated with that cause. Being able to troubleshoot all the difficulties of branding was an impactful process, she said.
"I created Beam, which is a mental health resource website, and then created all the branding for it," Zoe said of her project. "I am so excited to be at the showcase because I am also a student in the business school, and there is not a lot of recognition of individual projects in the business school. I have never been able to show off all of my individual work as a design student besides in my portfolio, and it is awesome to see the other work that students have done in the program."
Liesbeth Blundell, a sophomore majoring in design, said her exhibited lamp project spanned the entire semester, starting from creating abstract patterns to diagramming a natural specimen. Those design were then turned into a working lamp by using digital platforms like Rhino to learn how to render in 3D and using physical construction methods like a laser cutter.
"It feels really important to have a showcase like this because the design program is no longer a new program, but people still don't know that much about it," Liesbeth said. "So it is great visibility for our program, not only as students but also for incoming professionals and industry professionals, so we can get exposure, make those networking connections and also just celebrate our work."
This semester the school offered its first fashion-related courses – one in textile design and one in textile construction – both led by Bo Choi, Professor of Practice in Design at TuSA. Bo said she was impressed with how hard the students worked to organize and execute the showcase and fashion show.
"I am always telling my students where there is a creating part, there is a sharing part," Bo said of the event's significance. "The sharing part is equally important as creating because design is visual communication; so you have to do the sharing part. The clothes without the body is nothing. We need to see it in action and with human models."
The event attracted a large crowd, including not just design students and their teachers, but also students outside of the program who came to support their friends, Tulane faculty and staff, and other community members who were interested to see the impressive work being shown at the event. Many attendees expressed a desire for the show to continue as an annual event so students every year have the chance to be celebrated.
"I think this was the best thing that the design program has ever put on, and I am very proud to be a part of it," said Ali Abi Nassif, a design senior who had work exhibited in the fashion show, as well as a chair and senior capstone project. "I am proud to have a place where I can show my work."