NOCHI Downtown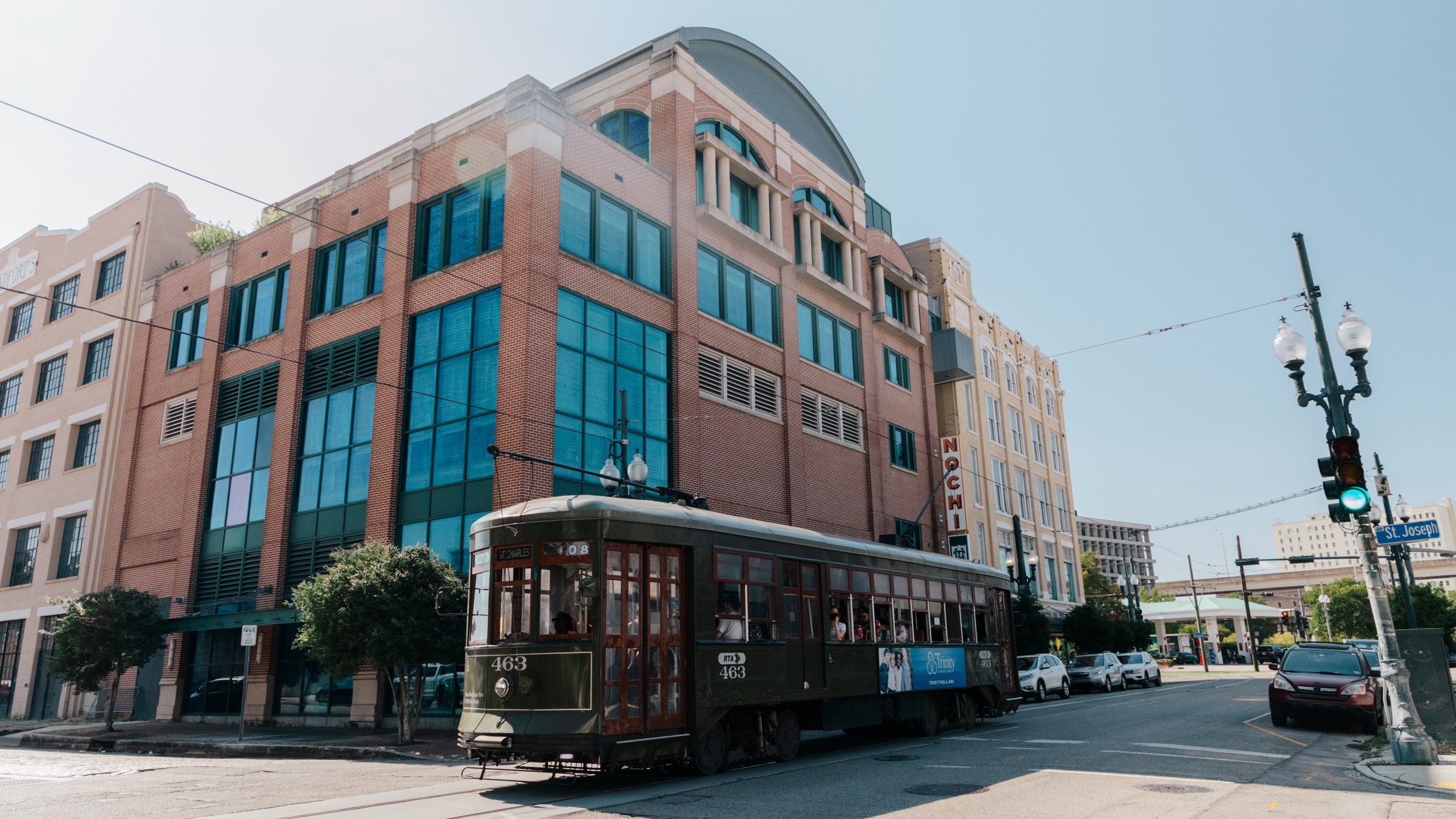 NOCHI (New Orleans Culinary and Hospitality Institute) is the new downtown home of Tulane School of Architecture.
NOCHI
In Fall 2022, we took over 25,000 square feet of classrooms, studios, offices, and meeting space on the 4th and 2nd floors of NOCHI (also home of the New Orleans Culinary and Hospitality Institute), located at 725 Howard Avenue, along Harmony Circle near the Pontchartrain Expressway. Read more about the move to NOCHI.
NOCHI is home to administrative office space for faculty and staff and additional studio space for students, in particular our graduate cohorts.
The school's floors at NOCHI have four state-of-the-art classrooms — including two tiered classrooms and two flat classrooms — with a combined seating capacity of more than 200 students. There are also breakout spaces, two conference rooms, 25 spaces for group work and offices, along with lounge and reception areas. The school also has access to rent several NOCHI-run spaces, including a 70-seat café and dining room, a large meeting space and banquet room, and two landscaped open-air balconies for receptions.
SECURITY
The facility has Tulane ID-controlled entry and is accessible to faculty and students after hours and on weekends.
UPTOWN CONNECTION
We offer a daily shuttle service that connects NOCHI to the Uptown Campus, as we also house studios on Tulane's Newcomb Quad while Richardson Memorial Hall is under construction.
We also occupy five temporary pavilions located in the center of the Uptown campus with additional studio space and one acting as a "Central Hub" for the school. This Central Hub has space for community work, lounge areas, meeting spaces, as well as a fabrication space for large format and 3D printing. Check out more about the Newcomb Quad Pavilions.
HISTORY
The NOCHI building was originally designed by Ron Filson, former School of Architecture dean, to be a new art studio. Later when NOCHI occupied the building, the well-regarded firm Eskew+Dumez+Ripple redesigned it as a mixed-use space for education.
NOCHI HOURs
725 Howard Avenue, 2nd and 4th floors | Splash Card access 24/7 for TuSA students, staff and faculty | Transportation available via Tulane shuttle.
Pavilion hours
NQ1 | 8:30am-5:00pm M-F (Summer Hours, starting May 14, 2022)
NQ2-5 | Splash Card access at entrance doors for TuSA students, staff and faculty (Summer Hours, starting May 14, 2022)