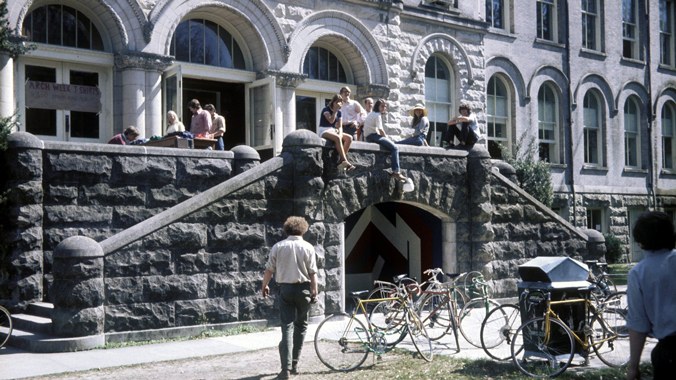 History
The first courses in architecture at Tulane University leading to a degree in architectural engineering were offered in 1894 under the direction of Professor William Woodward. An article published in 1907 noted, "the geographical location of the city of New Orleans, its cosmopolitan character, and the age and variety of its unique building types, make it a fit place in which to develop a school of architecture which would be suited to its environment, maintain a reasonableness of planning and construction, and be recognized as appropriate to the climatic conditions."
Accordingly, a full four-year professional curriculum in architecture leading to a bachelor's degree was established in the College of Technology (Engineering) in the 1907-1908 academic year. At that time, Samuel S. Labouisse, Moise H. Goldstein and Allison Owen joined the staff. In 1912, Professor Nathaniel Cortlandt Curtis was appointed head of the newly independent Architecture Department; he was succeeded by Professor John Herndon Thomson and Professor Buford L. Pickens in 1946.
At the conclusion of the Second World War, the faculty and enrollment increased to accommodate returning veterans, and the school continued to grow throughout the next two decades. John Ekin Dinwiddie was appointed dean of the School of Architecture in 1953. He was succeeded by Professor John William Lawrence in 1960. In 1971, the School of Architecture moved into its present facility, Richardson Memorial Hall, and experienced another increase in enrollment that continued throughout the seventies. Professor William Kay Turner became dean in 1972, and in 1975, a small graduate program was initiated, offering a post-professional Master of Architecture II degree. Ronald Coulter Filson became dean in 1980.
In the summer of 1990 the school began a program offering a Master of Architecture as a first professional degree for students with undergraduate degrees in other disciplines. Donna V. Robertson succeeded Dean Filson in 1992. Tulane faculty member Donald F. Gatzke was appointed dean in 1997, just as the school initiated its Master of Preservation Studies program. Also in 1997, a supplemental Certificate in Preservation Studies was offered to undergraduates for the first time. In 2003, the school eliminated the five-year Bachelor of Architecture degree, replacing it with a five-year Master of Architecture as the professional degree. Former Architecture Magazine editor-in-chief Reed Kroloff became dean in October 2004. In 2005, the school initiated the Tulane City Center, now known as the Albert and Tina Small Center for Collaborative Design, its urban research and outreach program, as well as URBANbuild, which helps rehabilitate neighborhoods through urban design and the construction of student-designed and built housing prototypes.
Kenneth Schwartz, FAIA became dean in July 2008, increasing national and international recognition for the work of students, faculty and alumni. In 2011, the school initiated its Master of Sustainable Real Estate Development Program. The school added a Bachelor of Science in Architecture degree track in 2014 and a real estate summer minor institute in 2015. The school also expanded its degree offerings and international study opportunities, and initiated a drive to fully integrate digital design throughout the curriculum.
Iñaki Alday was appointed as dean in May 2018 and began his term August 1, 2018. In 2019, he led the school to offer its first-ever Research Studios, providing students with new research opportunities through multi-year projects, working alongside faculty and with real-world clients. In 2020, the school launched a new Bachelor of Arts in Design and a new Bachelor of Science in Real Estate. The school is now undergoing a massive renovation, guided by Dean Alday and many other members of the TuSA community – alumni, friends, faculty, staff, and students.